Walbro Turbine In-tank 455lph High Pressure Racing Fuel Pump E85 Compatible New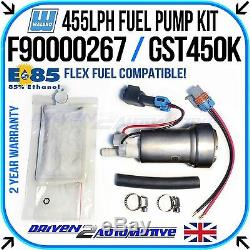 The F90000267 in-tank fuel pump is an E85 flex-fuel compatible award winning Dual Channel Single Stage (DCSS) high flow fuel pump manufactured by Walbro/TI Automotive. The design features the very latest in fluid pumping technology and the results are quite remarkable. This lightweight, small and quiet running pump is capable of supplying enough fuel for up to a staggering 800hp. This version of the popular TI Automotive/Walbro DCSS pump is E85compatible and produces a faster flow rate than the previously released F90000262 pump. All electrical connections must be sealed to be used with E85, therefore this updated version is fitted with a high quality Delphi'Packard' type connector built into harness. Unlike conventional pumps that use a traditional Gerotor (generated rotor) design, the F90000267 utilizes two parallel rows of turbine blades with a single impeller that helps to force fuel through at a rate like no other of a similar size. With this winning design combination, overall results are improved hot fuel flow, minimal noise and an increase in efficiency by up to 20% over conventional Gerotor pumps. These pumps are manufactured in the USA to the highest of specifications and they're also used as original equipment (OE) in some of the world's most modern super cars; a more than good enough reason to invest for any serious power enthusiast wanting to upgrade. Removes the need for two large externally mounted fuel pumps on high power applications.
Capable of supporting up to around 800bhp at 12V and 1000bhp at13.5V. PACE Award winning Dual Channel Single Stage OE technology. Specially designed for high performance engines.
All components are validated to OEM specifications for approved use in E85/Flex fuel applications. Internal check valve (one way valve) prevents system pressure bleed down. High pressure relief valve helps to support supercharger and turbo applications. Excellent pump for applications requiring super high flow rates. TI Automotives PACE Award-winning fuel pump design is a perfect example of commitment to innovation. It features a thermoplastic impeller, aluminium anodized pumping chambers and integrated motor. A dual high-pressure design maintains velocity in the channel by splitting the flow between inner and outer paths. The pumping sections work in parallel as opposed to in series, as is common in most two-stage series pumps.
We include a complete high quality fitting kit that features. 1x High quality fuel hose 5/16 8mm I. 2x Jubilee fuel hose clamps. 1x Packard Type power harness with positive and negative spade connectors. 1x Filter/strainer with star retainer clip.
Max System Pressure (psi): 87. Max System Pressure (kPa): 600. TI Automotive/Walbro Filter Group: B. Inlet Configuration: 0 degree outlet fitting to inlet orientation.
We (Driven 2 Automotive) have been supplying 100% genuine Walbro/TI Automotive fuel pumps for years. In-fact, we play a major active role in fighting back fake/counterfeits as we continuously produce a series of website blog articles dedicated on showing you how to spot the most commonly found counterfeit automotive parts online. Our articles feature many detailed photo's including, side-by-side comparison photos and many other crucial facts where fakes can't hide from, such as weight. A few key points worth mentioning.
Walbro is a sub-brand of Ti Automotive (TI Fluid Systems). In 2014, TI Automotive announced that all high-performance aftermarket products produced under their Walbro brand (such as high pressure fuel pumps) will now carry the TI automotive brand name instead. For example, the Walbro GSS342 is now officially branded as the TI Automotive GSS342. Our dedicated website blog article on spotting fake GSS342's (as already mentioned) has become very popular and features many comparison photos of the real unit vs fakes, we also provide weights and many bullet points on the intricate differences.
Simply type'How to spot fake Walbro fuel pump' into a search engine and we'll sure to be near the top of the results. Slight modifications may be necessary to your fuel pumps carrier/sender unit, wiring and fuel lines - For this reason, installation should be performed by a professional and fully trained mechanic only that has in-depth knowledge of amp draw rates and fuel pressure regulation.
A complete flush of your fuel tank (perhaps even multiple times) and fuel lines must be performed before using. The serviceable main fuel filter must also be replaced.
Please be aware that Driven 2 Automotive will not be held responsible under any circumstances for costs incurred due to parts that are found to have a manufacturing fault or that have failed due to poor installation. The most common cause of failure on any fuel pump is a'locked up' situation that's due to contamination of rust/debris and other minute objects. This contamination causes overheating of the pump, you must make sure your tank is completely flushed before fitting (perhaps even multiple times). Although the pump is using filtered fuel, even the smallest of objects can cause failure and it shouldn't be relied upon, especially with high powered applications. Walbro Automotive Fuel Pumps Are Now TI Automotive.
For decades, Walbro automotive fuel pumps have been manufactured by TI Automotive. These pumps are now branded with the TI Automotive name, carrying a legacy for more than 60 years of manufacturing the most popular drop-in fuel pumps, with the same performance, quality and reliability that you have come to know and expect.
The item "WALBRO TURBINE IN-TANK 455LPH HIGH PRESSURE RACING FUEL PUMP E85 COMPATIBLE NEW" is in sale since Friday, August 3, 2018. This item is in the category "Vehicle Parts & Accessories\Car Parts\Air Intake & Fuel Delivery\Fuel Pumps". The seller is "driven2automotive" and is located in SUPER FAST DELIVERY - BEST FEEDBACK. This item can be shipped worldwide.
Placement on Vehicle: In Tank Performance Upgrade
Reference OE/OEM Number: HIGHER FLOW THAN 044 0580254044 and 255
Manufacturer Part Number: GST450 + Kit 700-224
Brand: Walbro
Type: Fuel Pump
Country/Region of Manufacture: United States
Part Manufacturer Number: GST450 + Kit 700-224
Part Manufacturer: Walbro

---